Yellow Lace Up Flat Sandals
The combination of ruffled front strap and thin laces circling round the ankles is pretty appealing and would team up perfectly with your casual beach outfit.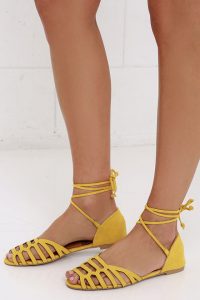 Yellow Lace Up Heel Sandals
The thick yellow laces tied up in a criss-cross manner or into a fancy bow would give you a chic look. You could pair them with a short mustard dress for an overall stunning appearance.